Social Media Marketing
Every business, no matter how big or small, needs a social media presence. Why? Because in 2018, 3.5 million New Zealanders were active on social media, spending an average of 1 hour 53 minutes on various social media networks![1] If you want to get your business out in front of the masses, then social media marketing is the way to go.
69% of marketers chose Facebook as their most important Social Media for marketing, while 16% chose Instagram and 5% chose YouTube.[2]
Organic Posts
The purpose of organic posting on social media is to build a community of loyal followers. You could do this by asking parents who book their children into your activities to 'like' and 'follow' your social media pages. Organic posts are great for showing potential customers your organisations values and culture. Encourage your audience to comment, like and share your posts to increase reach and visibility.
Paid Posts
Advertising on social media is great for building awareness, reaching new audiences and growing your social media presence. By advertising on Facebook and Instagram you are able to target a very specific audience - based on age, gender, location, language and interests. Advertising does not have to be expensive, budgets can be set for as low as $1 a day!
Enrolmy uses social media to connect with both parents and activity providers. Take a look at our pages:
---
Video Marketing
Youtube is still the number 1 channel for video marketing strategies, closely followed by Facebook native videos[3]. Internet video traffic accounts for about 80% of all consumer internet traffic. Research also shows that Videos generate 1200% more shares than text and images combined on Facebook and increases engagement by 33%![4]
Ways that you can use video marketing for your programmes!
Create videos that show your Holiday programme in action, this is an awesome way to attract new families to your programme.
Embed videos onto your website or natively upload them onto your social media pages.
Keep your videos under 3 minutes.
Add subtitles to your videos
We at Enrolmy use video to promote our business as well as the businesses of our activity providers. Here's an example:
---
SEO and SEM
SEO; or Search Engine Optimisation, is the practice of optimising your website for it to appear higher in search rankings. If a parent in your suburb searches for Holiday Programmes on Google you could potentially be the first result they see.
For you, the main SEO areas to focus on should be[5]:
A well-structured, fast, mobile-friendly website.
Your content should help demonstrate and explain why parents should book their children into your activities.
Informational blog content can put you in front of a wider audience.
On-page SEO is important so think page titles and descriptions.
List your website on local directories as links have a high correlation with good search engine results.
Credibility is very important. Ask parents for reviews and testimonials.
The Enrolmy market place is very well optimised. Providers that use Enrolmy get their own 'mini-site' (web page) which very often ranks in the top 3 in a google search, In some cases, Enrolmy booking pages even outrank provider websites!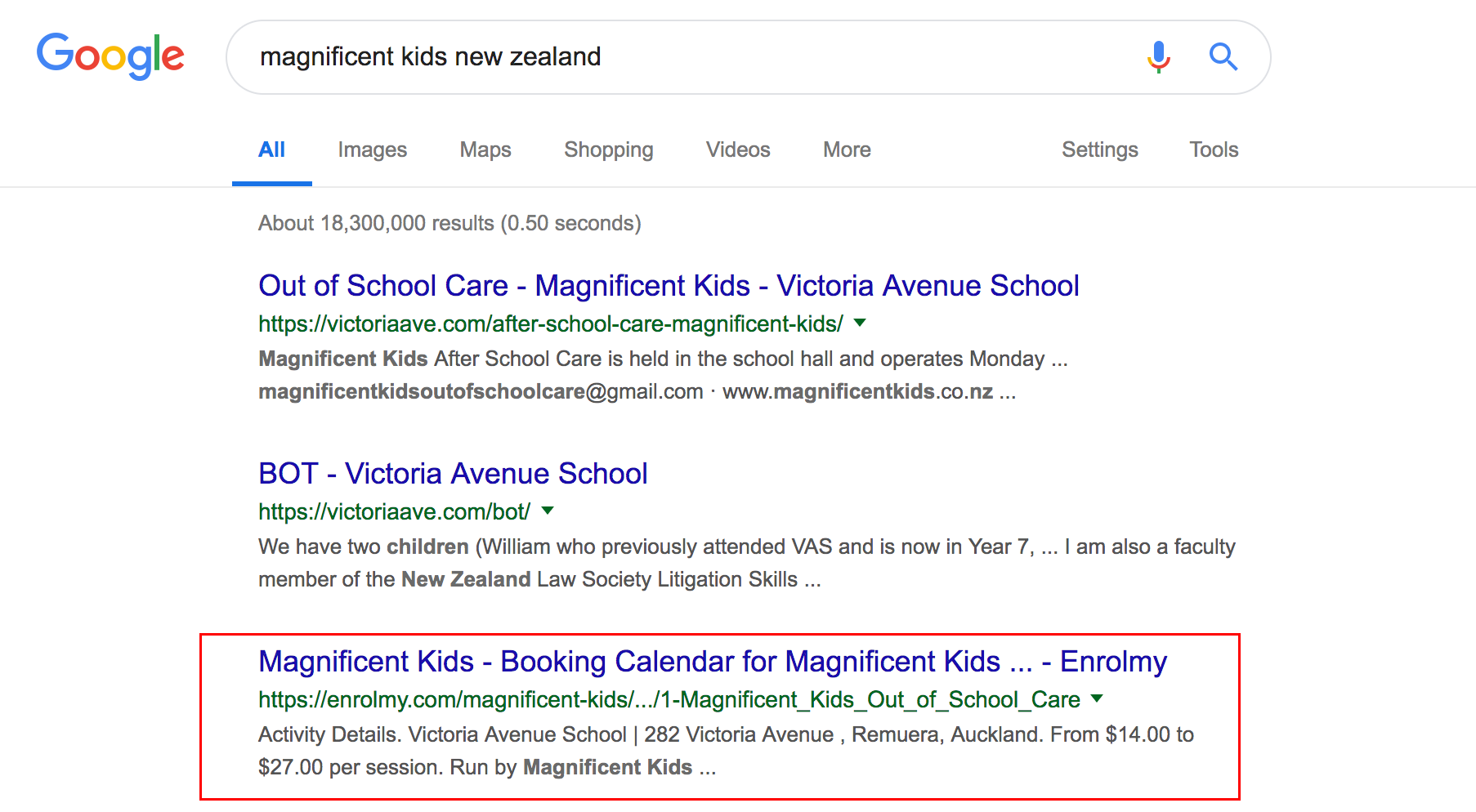 SEM; Search Engine Marketing, is the process of buying traffic through paid search listings. By bidding on Keywords like 'Holiday Programmes' or 'Holiday Programmes in Auckland' you can have an advertisment show up on the google search results page. Several Holiday Programme providers already practice SEM, type 'Holiday Programmes NZ' into your google search and you can see this for yourself. The first 2-3 results will be paid results (look out for the ad symbol).
Just note that Google Adwords can be a bit tricky and does need a bit of practice- you can read the Google AdWords guide here.
---
The Enrolmy App
This is where I shamelessly plug Enrolmy's Cloud-Based Software!

If you wish to grow your business, reach a wider audience, and save time and money then it is essential for you to move away from old school processes, paper forms and manual admin. Unlike other overpriced systems, Enrolmy pricing starts at just NZ$39.
Enrolmy provides you with:
Unlimited programmes.
Unlimited locations.
Flexible Invoicing.
Credit Card payments.
Bulk email communications.
And so much more...
Enrolmy Software is easy to use and can help you take your holiday programme business to the next level!
See Enrolmy Holiday Programme Software in Action:
---
To find out more on how Enrolmy can help you run your Holiday Programmes click the big orange button below and one of our specialists will take you through a demo of our software.


---