Sir Peter Blake Marine Education and Recreation Centre offer water based and outdoor experiences for individuals and groups. They also run popular holiday programmes that attract hundreds of kids each holidays. We spoke to the amazing team at M.E.R.C and they shared some key insights on how they have navigated the substantial risks involved with running activities on the water... with kids.
---
Well firstly, we would love to know what the top three activities provided by M.E.R.C are? Voted by the people.
We focus on marine based activities. The top three favourite would be sailing, kayaking and the rocky shore expedition.
So being in, on and around the ocean, how often are children enrolled who have low levels of confidence in the water? How do your team alleviate the many hazards around this?
We take group sizes of 12 at any one time. This ensures that all kids have a safe and enjoyable experience. Our activities are also developed to foster teamwork and support between the kids, who then offer encouragement as peers. On top of this, our instructors are expertly trained to get our students operating beyond their comfort zone.

Many of M.E.R.C's goals and objectives are to raise up leaders. Your activities are aimed to coax this out of your students and as you mentioned, your instructors are trained to stimulate and support this. What's an example of when you've seen a child either prevent a potential risk-related-event OR helped to mitigate it?
Due to the engaging Holiday Programme we run, we have older returning kids. These young leaders are willing to help out with the younger children, by assisting them with some of the basic skills they have learned from M.E.R.C. This includes things like fitting harnesses and helmets before our skilled instructors check them.
So another one of your goals is to aim for a zero based incident site for incidents that rate 3 or above on the Incident Severity Scale. What are some of your keys to achieving this?
When incidents occur, our positive safety culture advocates a 'report, review, respond' process. All events are recorded and then discussed in our daily meetings. If required, senior staff investigate and then facilitate debriefs. We action relative lessons from these meetings, to ensure we continue to have a safe learning environment.
---
What do the guardians seem to be concerned about the most?
Being marine based, safety is usually the primary concern. Other concerns are around the children's socialisation skills with the new friends they are likely to encounter from different schools and walks of life. But no two days are ever the same. Most parents simply ask the kids what they've done each day.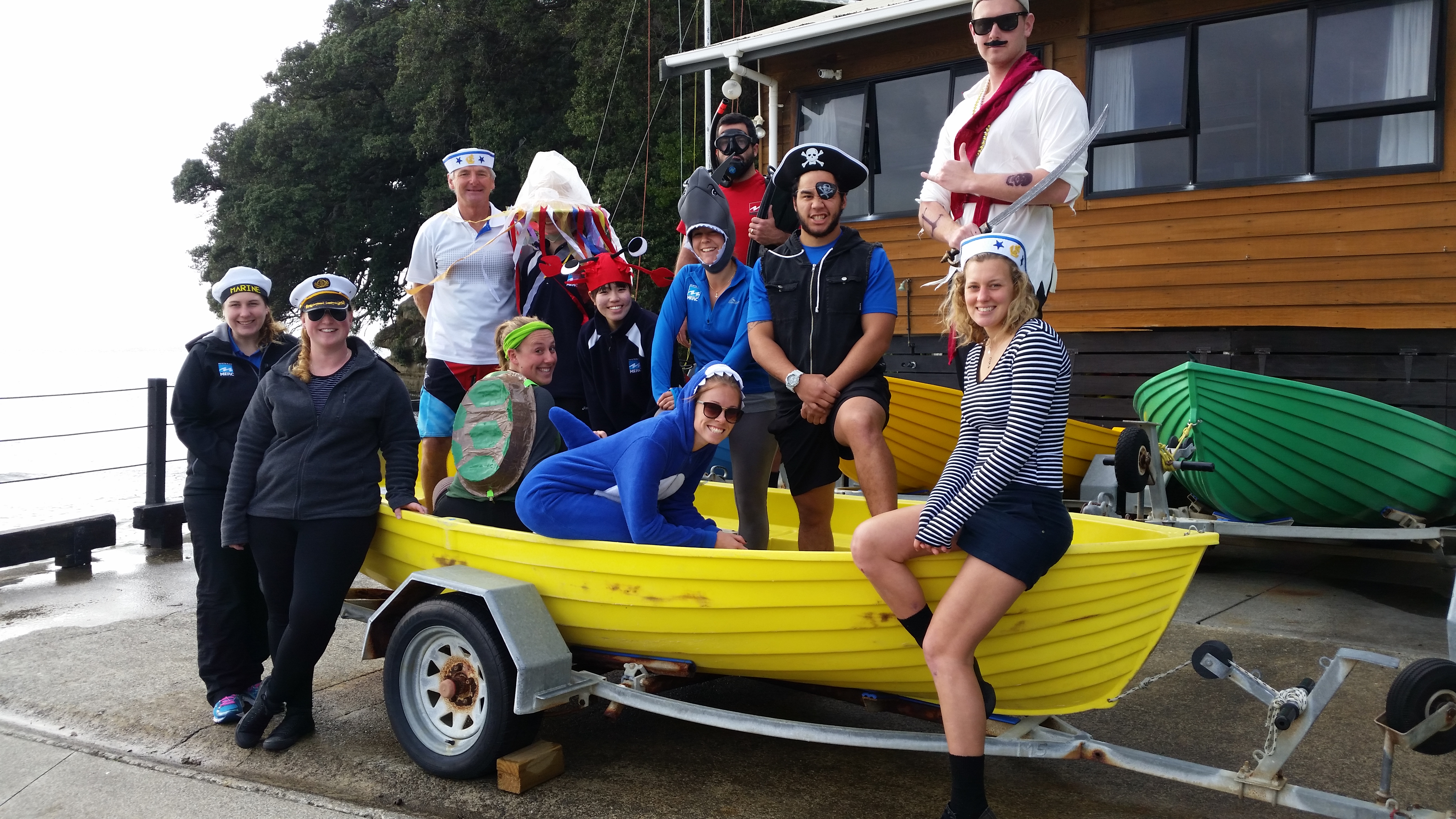 The Marine Education and Recreational Centre Supervisors. (2016)
Your staff seem to be an indispensable factor in mitigating risk for M.E.R.C. So what are some of the attributes you look for when hiring one of your outdoor instructors?
Their ability and experience to interact with kids and ensure they operate safely is absolutely paramount. Also, their passion for the environment, especially the marine world is a must.
Instructor training can be costly; do you find that these actually bring about a difference?
Yes, this ensures that the experiences we provide are of a consistently safe and high quality standard. Telarc externally verify this as part of out safety audit standard for adventure activities accreditation. Our team are constantly improving and reviewing how we operate as individuals and as a team.
What do you do to encourage team building with your staff?
Our daily briefings provide an opportunity to run through the plan for the day, as well as checking in to ensure we are in the right frame of mind and are supported in our work. We also have regular shared lunches to celebrate birthdays and special occasions. We're a close knit team and we know we have the support of each other. By fostering this culture within, we role model and then expect this of the kids.
---
To finish, would you share with us one of your favourite moments with someone who has participated in a M.E.R.C programme.
Earlier this year on our Rocky Shore Expedition, the kids discovered a hiding octopus within the Long Bay Okura Marine Reserve. Then, if the squeals of excitement were anything to go by, they were in awe as it crawled out of its den and explored the exposed rocks looking for another possie.