Many before and after school care, holiday programme, schools and activity providers will have a combination of the following...
A Website
A Facebook page / group / profile
LinkedIn profile / company page
Google Plus
A blog
With an array of privacy issues regarding children and online content, it can be difficult to lawfully navigate. For activity providers it might mean that you can't post..
certain photos (pictures of kids)
names
identifying details like school uniforms, location and address
---
The Privacy Commissoner's Office released a A Guide for Inter-Disciplinary Groups. The information stated throughout this report provides insights for childcare owners and operators on legal policies, around information sharing of children. Below is an excerpt from the article (pg. 15) highlighting the relevant legislation from New Zealand's Privacy Act 1993, specifically for activity providers.
The New Zealand Privacy Act 1993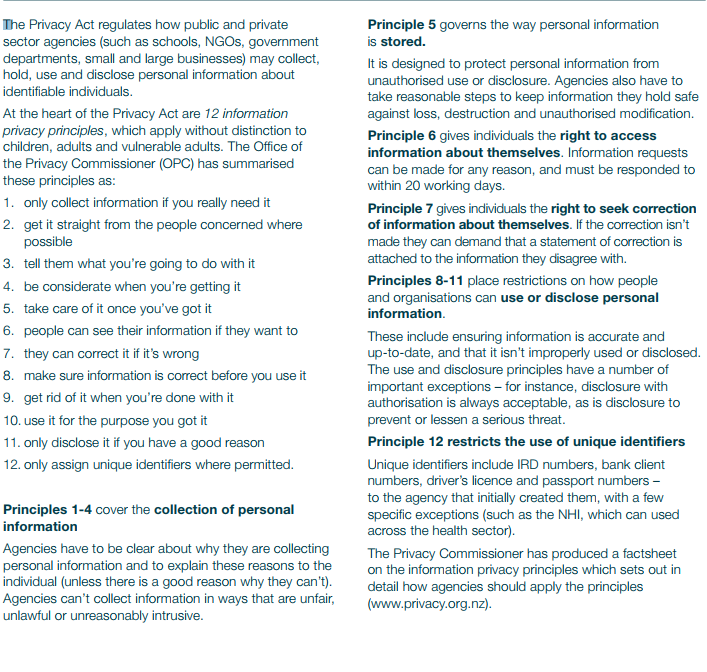 ---
Implement strategies that will safeguard your privacy terms and conditions.
---
It can be unrealistic having someone in the business moderating all of these potential law-breaking, fine-inducing and privacy relinquishing elements. So here are a few tips that may help you prevent the breach of privacy terms and conditions.
1. Gather media permissions via enrolment forms.
Include media consent forms as part of your booking process. The Privacy Act eludes to any media usage involving children, needing to have have parental consent. Clearly outlining your organisation's terms and conditions will ensure your parents are fully informed of your policies and intentions of use, with your gathered media. Once they sign these documents, you've made sure that your bases are legally covered. If you're a provider that already hosts a large database then I would suggest that you...
Create an e-signable document detailing your request for commercial use of media you've gathered on-site. Eg. Pictures of the kids playing in the sandbox. Email this document to your database. Take a look at SuiteBox for online signature software.
If attaining e-signatures isn't for you, then create your media consent release form and print this off instead. As parents come in to the programme to pick up their child - ask them to fill it out for you. Use a template like the one below to create your own.
Australian School - Braeview Primary's Media Consent Form To Parents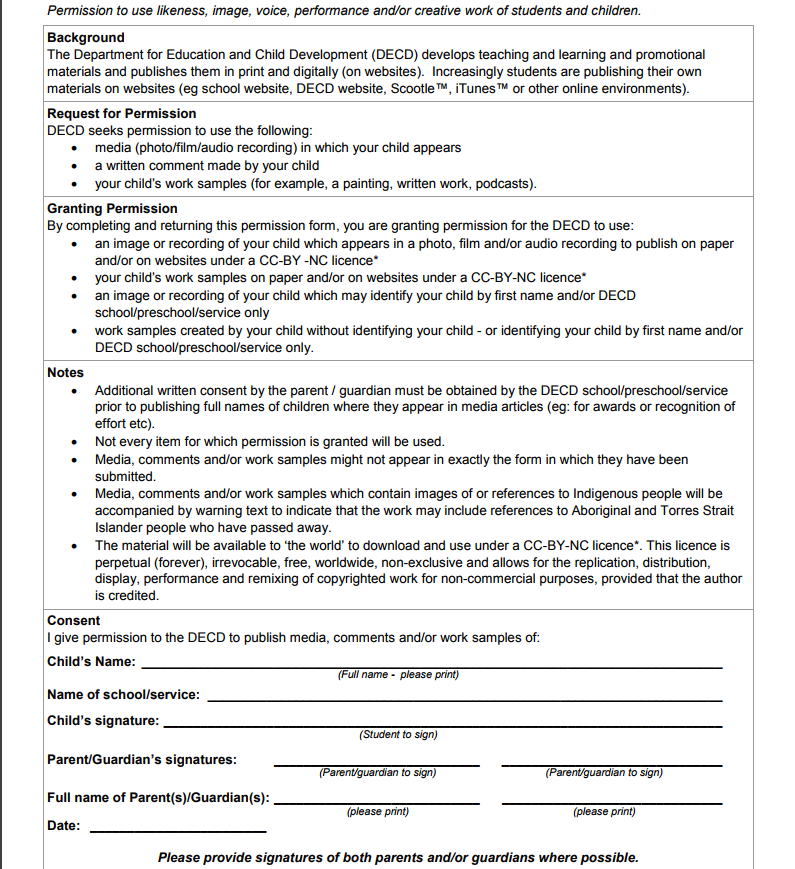 2. Create a private group on Facebook.
Closed groups are a great way for instantly connecting with the parents of your programme. Whether that's messaging or posting, you will find that parents will respond on Facebook faster than emailing. It also helps to create a great sense of community. Parents and caregivers that have children enrolled in your organization will be approved members on the page. Make sure the group settings disable the public from joining without permissions from you. (The administration team) This way you're keeping the privacy of the families and their children safe. The private group can be a platform for sharing images of the kids at day care, updates on whats happening that week, a way for staff to communicate with parents and a place to share specific information. (Eg. There's a birthday on Thursday - bring a plate) Before parents and caregivers join, notify them that this space will be used for those purposes. Staff and admin may also use this space to have parents approve images or content that will be shared with the public. Although you may have already covered your bases with a media consent form, it's important that you ask parent permission when posting photos of their children on Facebook. Mainly; it keeps parents happy and in the loop. It also shows that you're a respectful and a trustworthy business. Not only are you protecting your organisation but you're generating potential customers. Happy parents will share with their friends about their amazing childcare provider and how well they deal with families.
3. Create a public page on Facebook.
The public page can then post and share approved images and content. Not only that but I would suggest the daycare post fun and friendly community events and relevant news. It can also be used to post recipies, planned crafts for the programme that week and updates on what books the kids are reading this week. Things like staff training and endorsement shout outs are also awesome.
Tip: If your staff are willing - Sharing their training, skills, passion, why they love their job... are all trust elements that your business can share with the public. That way the community can see your organization is willing to be transparent.
4. Email Campaigns
Make parents aware that you are aware. Send out termly or monthly emails entailing privacy / protection tips that your organisation are actively conscious of. Share one policy a month. Maybe you could use the template below.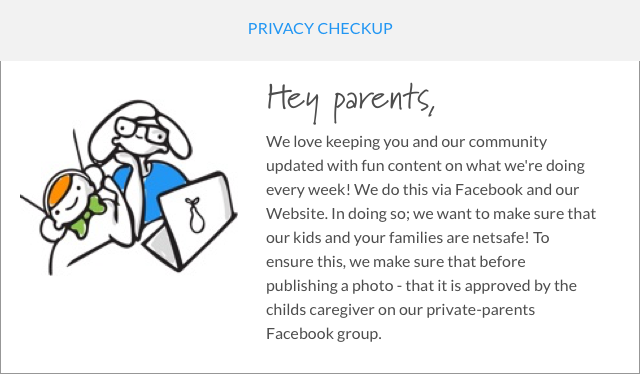 It's hugely important to be conscientious around the protection of your children, students, families, community and your business. Use tips like these to maintain the standard of privacy in your organisation, while still having a great online presence.