We have had businesses call us looking for information on how to start their own childcare programme. Enrolmy is happy to assist! However there are a few things that you need to get sorted before working closely with us.
---
1. Make sure your idea is feasible. Is there a need or interest in your community for your type of programme?
What else is running in your community?
What is your point of difference?
Is there a lack or a need that you can fill?
Do you have a relationship with any local community centres, schools, current BASC/holiday programme owners? - Motu & Rangi Esson; owners of Fun Zone Out of School Care mentioned that they first opened their childcare programme after speaking with the principal at their local school. Creating these relationships are important for the longevity and growth of your business.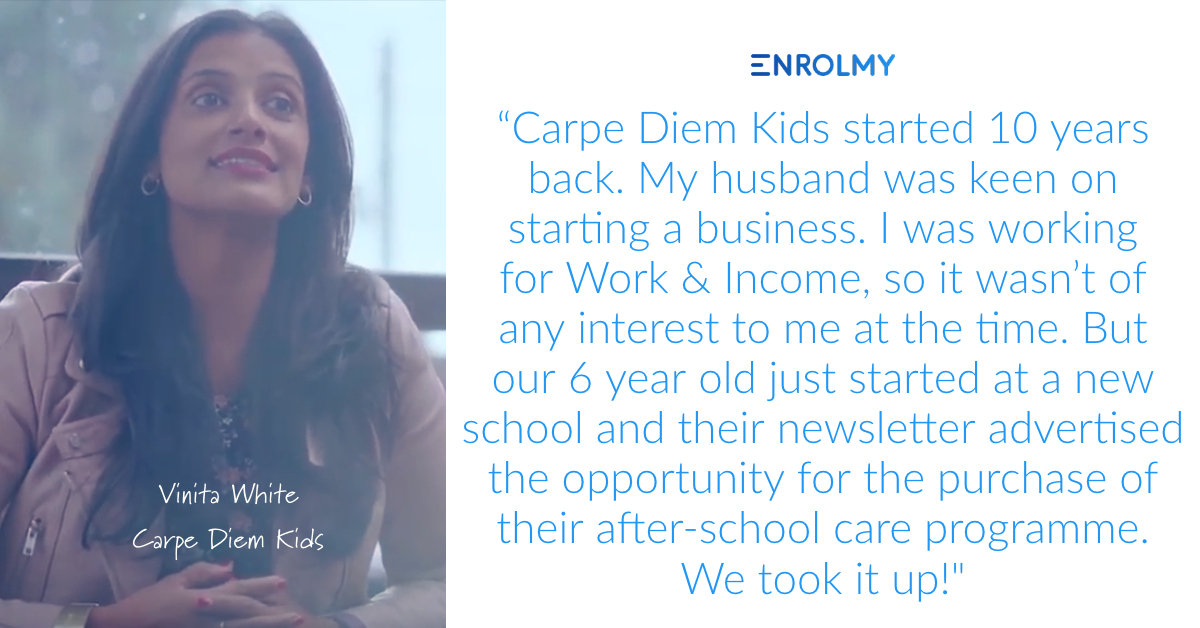 2. And practically...
Have you crunched your numbers?
Do you work two jobs? Eventually, Vinita White, left her full time job to administrate and oversee the running of Carpe Diem Kids. Is this possible for you?
Have you registered as a business yet?
Have you registered for a GST number?
Have you opened a business bank account?
If you're a before and after school care, have you / are you settling a tender?
---
3. Check out these OSCAR & MSD frameworks as guidelines for your organisational processes.
Many of our customers run OSCAR and/ or MSD compliant establishments. This is not absolutely necessary to run a before and after school care or holiday programme. However many programmes will utilize the OSCAR and MSD guidelines as a great industry standard framework for their organisational processes, and to also attain extra funding.
OSCAR programmes have minimum requirements that the Enrolmy Software helps to assist with.
An enrolment form - Our online enrolment process allows parents to fill this information in, and then is kept in your account database. You or your managers can access this when needed or print out enrolment or parent information.
Written information for parents - Enrolmy allows you to create online tiles that list all the information that parents need from you to make a decision to book.
An attendance / sign in-sign out process - The Enrolmy Package includes an online attendance application that allows your parents to quickly digitally sign their kids in. This information updates in your Enrolmy account and can be stored for further reporting later on. No more sheets and sheets of paper!
Financial record-keeping: bank account, invoices & receipts - Enrolmy integrates & works alongside many accounting systems. We also generate invoices, store that data, track payments and communications between yourself and the parent making record keeping, easy!
4. Ministry of Social Development Requirements.
https://www.oscarnz.org.nz/files/l3_SSAS_OSCAR_Standards_Master.pdf
There are three levels of accreditation that the Ministry of Social Development will give out to organisations. Each level indicates the quality of service that is offered to the community. Although an MSD accreditation is not required to start up a holiday or before and after school care programme. Check out the links below to level your organisational processes on industry standards!
Level 1 Social Sector Accreditation Standards
Level 2 Social Sector Accreditation Standards
Level 3 Social Sector Accreditation Standards
Level 4 Social Sector Accreditation Standards
If you want to apply for a Ministry of Social Development Accreditation then email your filled in application to -> MSDproviderapprovalteam@msd. govt.nz
Here are some helpful links that will also help you and your staff prepare to open!


Child care programmes are regulated but with the right preparations, qualifications, tools such as Enrolmy and Xero and a desire to nurture the learning of children in the community you live in, you can build a thriving enterprise which is very rewarding. We look forward to hearing from you!