I work for Enrolmy; a software company that collaborates with clients to upload their database to an online cloud. We have relationships with hundreds of childcare and activity providers. These are some of their commonly occuring concerns that they have shared when thinking about moving their business processes online.
Staff potentially losing their jobs.

The fear of parents (their customers) not adjusting to the new changes.

The outlook that online processes are limiting.
Staff potentially losing their jobs.
We've come across many childcare providers and staff who fear their roles will be diminished if the business takes on digital processes. Accountants and administrative persons employed by the organization have shown the most concern. In our experience with clients we've noted that many of the tasks throughout the day are actually filled up with duties outside of the job role. Like chasing payments for unpaid accounts. This particular process itself should be done quickly and efficiently. In this instance the biggest hindrance stems from the back-and-forth communication with clients and then manually sending out each and every invoice, weekly.
Consider the idea that productive staff members will see potential with new systems as they're able to finally cut the nuances from their jobs. It can actually be a catalyst for your staff getting back to doing what they love.
One of our clients runs before and after school care services in three different locations.
Three. Different. Locations.
Now we know that even running one successful childcare organization can be chaotic. But three! The owner used to manage all the administration duties herself; the shopping for each location, the enrolments, the session rolls, the transport for kids, meeting with and communicating with parents, invoicing payments, chasing up payments, managing employees across three schools and then dealing with external entities like the principals, caretakers, holiday programme excursion providers.. and the list just goes on and on and on. We helped our client streamline her registration system so she no longer had to manually enter in enrolments, medical, payment or invoicing information. This drastically freed up up her time for other areas of the business that needed attention. We know that streamlining her processes through our online softwarre contributed to being able to do this. In this industry we've come across many stressed, disorganised and anxious-ridden managers who are mostly caught up in tasks outside of their job role. Consider what it would be like with an all-in-one administrative system. You're are going to find yourself and your staff less stressed, more organised and have all the communications that you need in order to be productive.
The fear of customers not adjusting to the new changes.
Customers will adjust to the changes you make. In their own lives they fully integrate the new technologies that rear their heads every single day. As you automate your processes be prepared to receive a few grumbles. But overall that shouldn't trump your decisions to go online. Some owners have claimed that their target demographic don't have access to online portals so they refuse to use online processes. Statistics NZ show us that most New Zealanders do have access to the internet, if not at home then at work, if not at work then commercial facilities.
New Zealanders' connection with the Internet
The number of New Zealanders connecting with the Internet.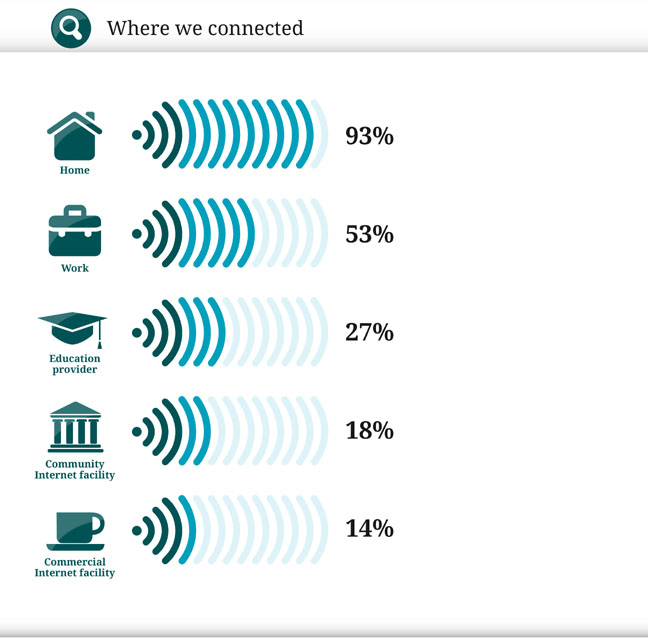 If you're still concerned about customers being upset with change. Consider making it a point to talk about the benefits for them. Such as the ability to easily edit their details and being able to make these changes without having to come into the centre. Other perks for them may be the increased ease of accessibility. Maybe their payment and invoicing details all in place will be highly attractive to them aswell.
The outlook that online processes are limiting
Another mindset that we've seen providers overcome has been that online processing systems are limiting. By this I mean credit card payments. Many providers have turned down our option of taking credit card payments. Again their reasons were that their parent demographic didn't own a credit or debit card fearing that they would turn to other providers instead. But the clients who have turned on their credit card payment option using our software, have always experienced prompt payment. In doing so they also managed to cut out the nuances of chasing owing debts with accounts. The previously mentioned client that oversees three childcare locations, also noted that by accepting credit card payments she saw a steady cashflow throughout the holiday period. She also said she didn't have to go into work to verify these payments coming through, it was all automated.


Here are the takeaway points that you should consider when moving your business processes online...
Staff can go back to doing the core tasks to their jobs. They no longer need to get caught up in arbitrary duties that take away their focus. Like chasing payments from parents.

Make customers aware of THEIR benefits from your change.

Accepting credit card payments will create a steady cash flow.